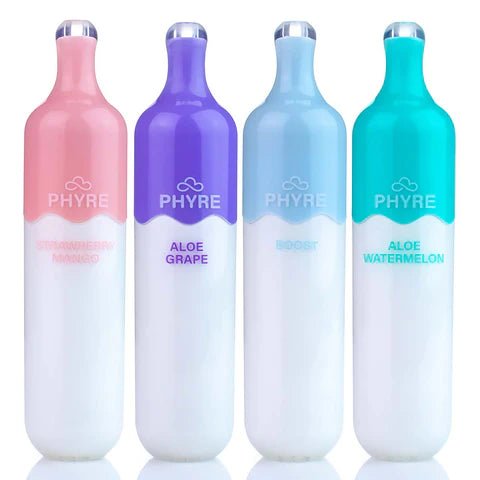 PHYRE DISPOSABLE VAPE - 3000 PUFFS
$3.99
$24.99
Hurry! Our team of buyers somehow snagged an incredible deal on the stunning Phyre Disposable vape 3K Puff. This unbeatably priced device is flying off our shelves - don't miss out, grab yours now and save big time!   Get ready for a satisfying selection of flavors - PHYRE Disposable Vapes are your go-to companion to help keep those nicotine cravings in check! This ergonomic device offers up 3000 puffs per device for 3000 hits without the need for any extra pressing or charging. Everything is designed with convenience and superior taste sensations in mind, guaranteeing you an effortless vape experience every time! Let's get excited about the PHYRE Experience! Enjoy an ergonomic, cylindrical design made specifically for your comfort as you indulge in 12 tantalizing flavor combinations. With its high-capacity battery and 8mL vape juice capacity, this device offers up to 3000 puffs - enough for days of blissful enjoyment. No buttons necessary; simply draw activated firing makes it incredibly easy user friendly. So don't wait any longer; the new PHYRE Disposable is here so let's get puffing! For more Phyre Discounts: 10-Pack Available Here! Available Flavors: Aloe Grape Aloe Watermelon Boost Lychee Frost Lush Frost Mamba Mint Frost Peach Frost Pino Loco Strawberry Banana Strawberry Grape Strawberry Mango Phyre Disposable Vape Features: 8mL Prefilled E-Liquid Capacity Integrated Long Lasting Battery 5% (50mg) Nicotine Concentration Approximately 3000 Puffs Draw-Activated Firing Mechanism CALIFORNIA PROPOSITION 65 - WARNING: THIS PRODUCT CONTAINS NICOTINE; A CHEMICAL KNOW TO THE STATE OF CALIFORNIA TO CAUSE BIRTH DEFECTS AND OTHER REPRODUCTIVE HARM.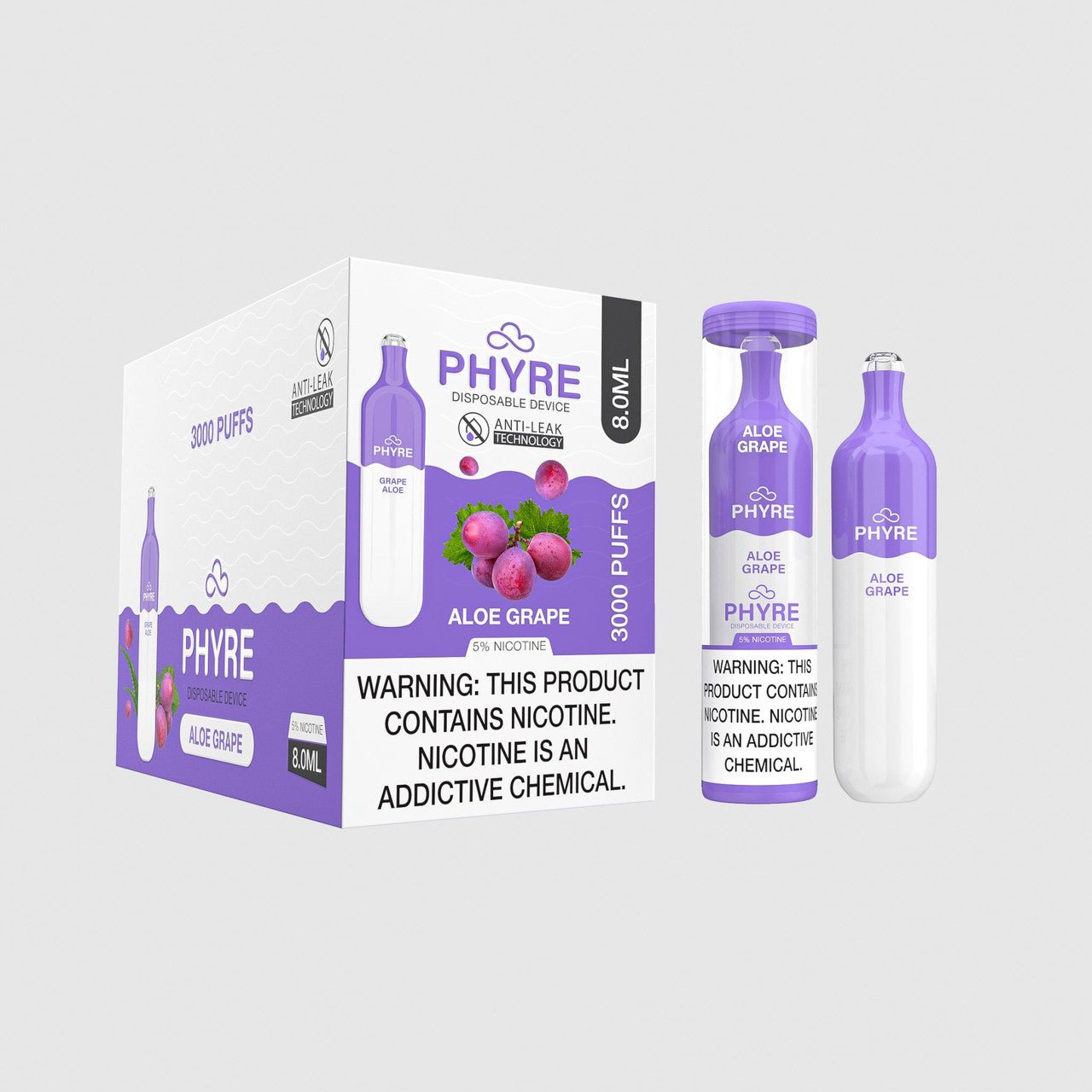 PHYRE DISPOSABLE 3000 PUFFS - (10-PACK) ONLY $29.99
from

$29.99

$249.99
Phyre Disposable Vape, featuring a 8mL prefilled eJuice capacity, 50mg nicotine strength concentration, and delivers up to 3000 delicious puffs. Phyre Disposable Vape Features:8mL Prefilled E-Liquid CapacityIntegrated Long Lasting Battery5% (50mg) Nicotine ConcentrationApproximately 3000 PuffsDraw-Activated Firing Mechanism *all sales final on disposable vapes. CALIFORNIA PROPOSITION 65 - Warning: This product contains nicotine, a chemical known to the state of California to cause birth defects or other reproductive harm.